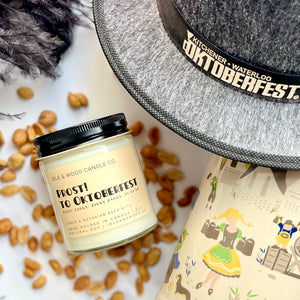 Lager | Bavarian Beer Nuts
Ziggy Zaggy, Ziggy Zaggy, Oi Oi Oi 
Ah! The smell of freshly roasted Bavarian beer nuts with lager will bring you back to celebrating at the Oktoberfest hall! 
We're back as an Onkel Hans Food Drive Partner with KW Oktoberfest for the 2023 festival with our "PROST! TO OKTOBERFEST" candle!
From August 31st until the last day of the festival, October 14th, a portion of the proceeds from each of these candles purchased will go directly to the Onkel Hans Food Drive in support of The Food Bank of Waterloo Region! 
PROST! 🍻
9 oz | 60 hour burn time
LOCALLY MADE | NATURAL SOY | HAND POURED
Our candles are hand poured in small batches, using natural soy wax, premium cotton wicks, high quality essential oils, and phthalate-free fragrances.