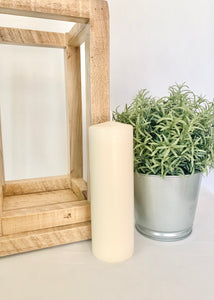 Pillar Candle:
 
Candle Dimensions: 7" x 2.25" 
100% Sustainable Plant Based Wax and Cotton Wick 
55 Hour Burn Time
Hand Poured in Canada
--
Warning & Care:
Remove candle packaging and label before burning. For best results burn 2-3 hours at a time. Burn only in a suitable container, keep away from any flammable materials. Keep wick centered and trimmed to 1/4" to prevent smoking, soot build-up, and excessive dripping. Do not move candle while burning or if wax is hot. It is recommended to extinguish pillar candles with a snuffer. Keep away from drafts, children, and pets. Never leave a burning candle unattended.