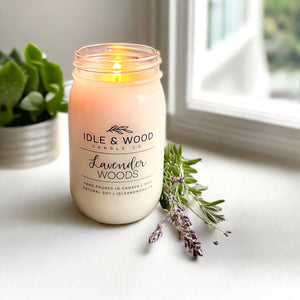 Lavender | Cedar | White Musk
This new fall candle combines the calming elements of lavender with the sweet, woodsy musk of the outdoors. This fragrance is perfect for those looking for a sense of balance and tranquility in their home.
 8 oz | 50 hour burn time 
16 oz | 100 hour burn time
LOCALLY MADE | NATURAL SOY | HAND POURED
Our candles are hand poured in small batches, using natural soy wax, premium cotton wicks, high quality essential oils, and phthalate-free fragrances.