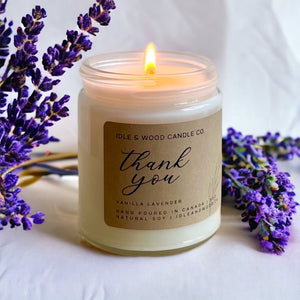 Vanilla | Lavender
This timeless and elegant fusion of vanilla and lavender creates the perfect thank you gift for any occasion. Thank you provides a tranquil atmosphere with it's calming blend of floral notes.

 9 oz | 60 hour burn time 
LOCALLY MADE | NATURAL SOY | HAND POURED
Our candles are hand poured in small batches, using natural soy wax, premium cotton wicks, high quality essential oils, and phthalate-free fragrances.